History:
---
Bangladesh Boy Scout Association formed in 1972, after a nine month long bloody Indipendence war as successor of the East Pakistan Boy Scout Association. Hon'ble Prime Minister of the Revolutionery Indipendent Bangladesh government, the then The finance minister Mr. Taj Uddin ahmed became the first President of the Association.
Scouter Pear Ali Nazir, widely known as P.A.Nazir appointed as its first National Commissioner.
The same year Scouting was recognised in Bangladesh by the government unther the Presidential Ordenancs no. 111/72.
Bangladesh Boy Scout Association became the 105th member of the World Orgnization of the Scout Movement as "Bangladesh Scout Association".
In 1978 Bangladesh Scout Associasion changed its name as"Bangladesh Scouts".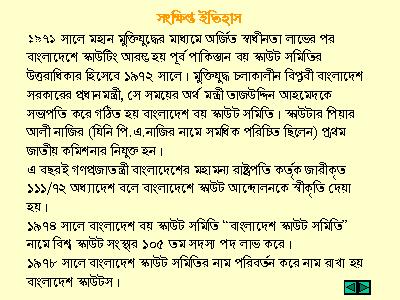 Progresive programme for Scouts:
---
Scouts Programme are always progresive. Bangladesh Scouts has its own programme for its youth members. Programme for "Cub" section:
Membership
Cresent
Star
Cresent-Star

The highest award for Cub
" The Shapla Cub Award".
This is awarded by the H'ble Prime Minister of Bangladesh.