District Officials:
Each Region is devided into several Districts.All the Regions except Railway, Sea & Air Region,are devided into District as per Administrative Districts.
District Scouts Officials are: District Scouts President, Vice Presidents, District Commissioner, Assistant Commissioners,District Cub & Scout Leaders(except Rover Region),elected members,Upzilla Commissioners under the Districts;And District Rover Leader in Special Regions.

Upzilla Officials:
District Scouts are devided into Upzilla Scouts. There are no Upzilla stage in Rover, Railway, Sea & Air Region.There are Upzilla President, Vice Presidents, Upzilla Commissioner, Assistant Commissioners, Upzilla Cub & Scouts Leader And elected members in the Upzilla Scouts.

"NEXT"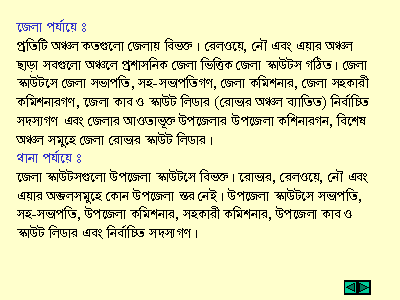 Click on page forNext Page