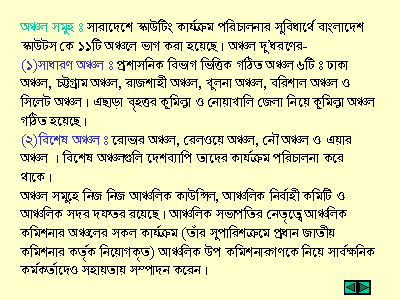 Click on page forNext Page
Regions:

Bangladesh Scouts is divided into 11 Regions for its administrative & operational activities. There are 2 types of regions:

1. General Regions :
As per administrative Divisions there are 6 regions such as Dhaka Region, Chittagong Region, Rajshahi Region, Barisal Region & Sylhet Region. In addition there is Comilla Region with greater Comilla & Noakhali district.

2. Special Regions :
Rover, Rilway, Sea & Air Regions. These regions activites are throught the country.

There are Regional Council, Regional Executive Committee & Regional Headquarters for each Region.
The Regional Commissioner work under the suvevision of Regional President with his Deputy Regional Commissioners who are appointed by Chief National Commissionar as his recomendation & Professional Scouters/staffs.